Pool Fence in Birmingham AL
---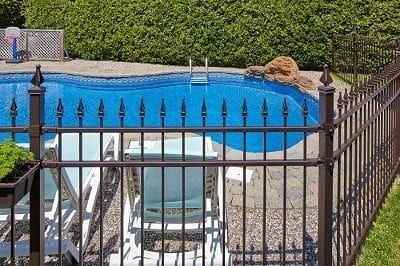 Pool fences are very important in keeping people out, especially very young children below five years old and even animals. Swimming pool fences should come with a self-closing or self-latching gate that complies with the State laws and codes to ensure that little kids will not go running around and accidentally stray into the pool area. A pool fence can be made of any type of material like the aluminum fence , chain link fence which is made of steel and also the glass or vinyl/PVC.
Safety Measures for Pool Fence Installation
There is generally no federal law governing pool fences in the United States but the states of Florida and Arizona and many others have already enacted their pool fence laws to help keep kids and other people safe.
The safety standards according to the International Code Council (ICC) states that pool fencing should:
Have a minimum height of 48 inches
Have a middle horizontal rail that is at least 45 inches above the bottom horizontal rail
Have a spacing of less than 4 inches in between pickets
Have a spacing of less than 2 inches between the ground and the bottom horizontal rail
Have self-closing and self-latching gates
Have gates that open outward, or away from the pool area
Have a latch that is at least 54 inches from the bottom or should be at least 3 inches beneath the top and facing the pool side, AND it shouldn't also have a cavity or an opening that's greater than half of an inch within 18 inches (45.72 cm) of the release instrument
What makes our pool fences different
While AllSteel Fence specializes in steel fences, we also offer a quality service using other types of fencing materials. You can choose from among the many types of materials and we do all the hard work for you, simple as that. Should you have any other special requests, do not hesitate to tell us.
Getting the best from the best
When you get your pool fences done by AllSteel Fence, you can be assured that you get the best quality work. We can back this up with more than 50 years of experience up our sleeve, so we certainly know what we are doing. We also only use the highest quality materials that we manufacture in house, which are definitely the best among the best there is available on the market.
Our pool fences are compliant to the standards set by most States and by the ICC codes. Give us a call right now to request  a free consultation and estimation.
---