Residential Chain Link Fencing in Birmingham AL
---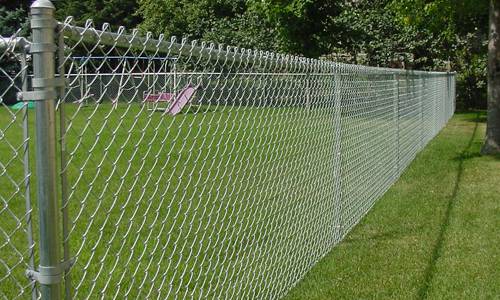 You are probably familiar with chain link fences as the types of fences used around baseball and outdoor basketball courts, in schools and even in dog areas. They are not exactly the most aesthetically pleasing compared to wrought iron or wood fence, and chain link fences also do not provide the level of privacy that you might need. However, they pretty much serve their purpose which is why a lot of homeowners and property managers go for these types of fence materials anyway.
Why should you consider chain link fencing?
There are many reasons why property owners like getting chain link fences to enclose their backyards. For one, they are among the cheapest types of fencing material available, so if budget is an issue there is always this option that you can run to. Chain link fences are also pretty strong, especially those that use thicker galvanized materials, so they are perfect for keeping dogs in and any stray animals out.
Most chain link fences nowadays are generally longer lasting compared to other types of materials and are resistant from rust and corrosion. There is no maintenance needed for these types of fences, making them perfect for gardens and sports courts as well as locations needing a temporary or boundary fence. If privacy is a concern, mesh or slats could always be added to a standard chain link fence.
Where to get chain link fences
Chain link fences can be easily availed at your local hardware store or, if you want to purchase and have them installed as well, you can always get your materials from AllSteel Fence. Just as our name suggests, we specialize in steel fences and all chain link material coming from us is manufactured in-house, so you are assured that we supply the best quality product there is on the market.
Contact us today
AllSteel Fence has been around for 50 years, taking pride in the high-quality workmanship in all our fence installations, be it chain link fences, ornamental fencing, or any other type of fence. We treat all our customers well and deliver outstanding service regardless of the size of the job.
For your chain link fence needs, you can contact us today for a free consultation and estimate. Our years of experience and certified employees will give you peace of mind knowing that your fence work is being carried out to the highest standard.
---